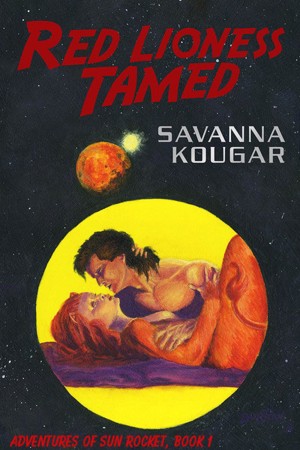 Sexy Saturday kisses, everyone.
Okay then, through the month of July you can purchase RED LIONESS TAMED at Smashwords for 25% off.
~https://www.smashwords.com/books/view/383067~ ~~~~~~

The first X-seven paragraphs from CHAPTER THREE of my sci fi shapeshifter novella, RED LIONESS TAMED

Draxen brushed his fingertip around her peaked nipple. The shape of her breast, her rigid nipple, was stunning to his eye beneath the silky fabric.

With her strength returning, he trapped her wrists in one hand, even as she attempted to deny him. Every male instinct compelled him to bind her to him. Hell's black stars, despite her warning that she possessed secrets, dangerous secrets.

Lowering his head, he gripped her nipple with his lips. Draxen pulled the perfect bud slowly, over and over, while she writhed – hot and erotically splendid for him.

At the same time, he gently fondled her other breast, sumptuously curved and proud in carriage. By the feel of her womanly flesh, he knew his red-haired beauty hadn't lied.

There were no enhancements to her physique. Bright-star besides, his health monitor had revealed as much.

Draxen slipped his lips from her engorged nipple, and touched his mouth to hers. He nibbled her lush warm lips.

Wild as a stud beast for her, even so, he lightly nipped until she moaned for him. Carefully, he captured her mouth with his, pressing until she surrendered to his tender kiss.
~~~~~~

For more of My Sexy Saturday ~mysexysaturday.blogspot.com~
~~~~~~

Red Lioness Tamed
Adventures of Sun Rocket, Book 1
A Shapeshifter Sci Fi Erotic Romance Novella
~~~ Sun Rocket and Captain Draxen Z invite you to read their love story ~~~
RED LIONESS TAMED ~ Lioness shifter lost in space with a loner captain who will do anything to keep her, even seduction by leather ~ *5 Flowers* from Book Cravers
Blurb/Excerpt/Buy links: ~savannakougar.blogspot.com/p/red-lioness-tamed.html~
Available at SMASHWORDS PREMIUM CATALOGUE, AMAZON, and ALL ROMANCE EBOOKS.

~~~~~~
ALSO...
Blurb-Excerpt-Buy Links:
HER MIDNIGHT STARDUST COWBOYS, a ShapeShifter Seductions Presents Novel.
Sherilyn, Dono, and Zance invite you to read their love story ~
A woman desperate to save herself and her prize horses. Two shapeshifter cowboys who want her as their woman. That's only the beginning... Available: SMASHWORDS PREMIUM CATALOGUE ~ KINDLE ~ *TopSeller* at AllRomanceEbooks
For more info on my para-fantasy erotic romances check the sidebar.
Love shapeshifters? Wanna know what life is like in a world of shapeshifters and supernaturals? Welcome to Wolf Peak Territory at SHAPESHIFTER SEDUCTION.
Now Available: RIDE THE ROAN STUD, written by my alter ego, Stevie Klark.~stevieklark.blogspot.com~
Blurb: On a vision quest, Ghost Walker succumbs to the harsh desert of the Four Corners badlands. With death's talons striking, he is rescued by a mysterious mustang.
Running as horse, Grant Thunderhead senses an intruder trigger the forcefield protecting his steam engine caverns. Investigating, he finds a beautiful unusual man who will rescue his heart.
Excerpt/Buy link ~bookstrand.com/ride-the-roan-stud~